---
About Playful
They say you dress the way you feel. Playful takes on the responsibility of making you feel happy and gives you a sense of fun and high in spirits no matter the occasion. Playful is a new brand of play bringing something dope, fresh and new to the fun, free and playful. Get Playful and rock the next brand up. For questions or customized orders such as changing the logo color or adding your name to the item, please email me.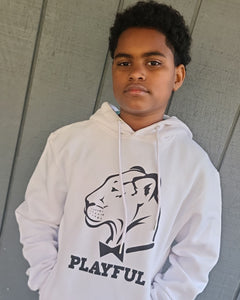 Playful Mission Statement
Despite life's struggles, life's setbacks, people's opinions of you and no matter your sexuality, "Do What You Love, Do Whatever Makes You Happy and JUST BE PLAYFUL."
Playful is a brand for EVERYONE regardless of race, age, color or occupation.
---
Our Mission
Playful is the brand that's all about living a happy life and making life fun. Study and research shows that happy people are dramatically more successful, are more likely to reach goals, are healthier, tend to live longer, have better relationships and definitely have more fun. The Playful brand's mission is to instill the lifestyle of being happy starting from a young age. Wearing and living the lifestyle that Playful represents will lead to more happy people which means the world has a chance at being happier. Playful is already worn by people of different ethnic backgrounds and cultures ranging from newborns to 65+ and has the potential and opportunity to reach many, many more. Playful is a brand for literally everyone and now kids can have a brand that they can grow with from a young age that will inspire them to simply be happy.